The sparsely populated eastern tip of Quebec
With its spectacular coasts, small fishing villages and beautiful mountains, Gaspésie is like no other part of Canada
Key:

Main points of interest

Click markers

for more detail

Once upon a time, many centuries ago, a large part of the northeast Atlantic coast of North America was colonised by people from France. Along the northeast coastline, there were three French colonial areas called Acadie, Gaspésie and Terre-Neuve.
In the 18th century, following conflicts and treaties between warring nations in Europe, Acadie - now part of Maine and New Brunswick - and Terre-Neuve - now called Newfoundland - came under British colonial rule. That left Gaspésie as the only French-speaking area on the Atlantic coast of continental America.
But very few people lived there. The only settlements were fishing villages along the coast, inhabited in part by French settlers from Acadia, and in part by British Loyalists who moved up from the new United States following its independence.
To this day, Gaspésie remains a very sparsely populated area, with a total population of under 100,000 people in an area of a little over 20,000 km² – which is less than 5 people per square kilometer, far less than the neighbouring Atlantic provinces of Nova Scotia and New Brunswick.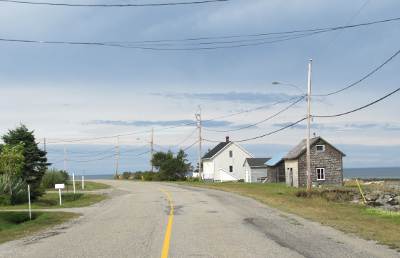 The Gaspésie coastal highway - right on the water's edge

It's no surprise therefore that Gaspésie, a land of coasts and mountains, remains a very unspoiled and beautiful part of eastern Quebec, and an area that attracts visitors looking for grandiose scenery, a stunning coastline, great hiking areas and a fabulous natural environment.

Essentially, Gaspésie offers two kinds of opportunity; on the one hand the opportunity for a leisurely drive along what is arguably the most scenic coastal route in North America, on a par with California's Highway 1; on the other hand a mountain and National Park area with fabulous hiking and skiing trails through a pristine natural environment.

It is Gaspésie's coastal route that attracts the most visitors: but don't imagine that it attracts the crowds – it doesn't. This is too much of a far-flung destination to attract the hordes, too remote, too far from any big city or from any international airport apart from Quebec. Gaspésie is a destination for conoisseurs, those who have done their homework, those who a ready to seek out the beautiful parts that others have not found. And those who make the journy are duly rewarded.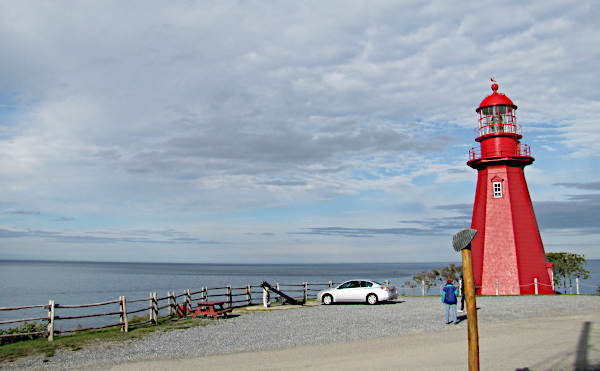 One of Gaspésie's many iconic lighthouses

For travellers starting from Quebec, the most interesting way to reach Gaspésie is to take Highway 138 along the north shore of the Saint Lawrence to Baie Comeau, then take the ferry across the 50-km wide Saint Lawrence to Matane. Matane is one of the small fishing ports along the Gaspésie coast, with a cluster of hotels, mostly on the water's edge, and a fine place to join highway 132 for the journey along to the tip of the Gaspé peninsula.
Highway 132 follows an amazing route; it actually starts at the Vermont border southwest of Montreal, and follows the south bank of the Saint Lawrence all the way to Gaspé; and at Gaspé, it continues to hug the coast, looping round the southern shores of the Gaspé peninsula and back across the peninsula to reconnect with itself on the northern coast, at Sainte Flavie. Thus you can, if you want, do a tour of Gaspésie by just following the 132 from Sainte Flavie, and round back to Sainte Flavie.
Landing in Gaspésie on the ferry to Matane means that you start your tour about 50 miles northeast of Sainte Flavie.
From Matane, highway 132 just follows the coastline; and in this case, "following the coastline" means driving with the sea on one side of the road, and the hills or cliffs on the other. Stop anywhere you want, to wander along deserted beaches, watch the birds, visit a lighthouse, or discover another small fishing village. There is no prescribed list of places to stop, just a succession of views and vistas, landscapes and seascapes.
The largest towns are small, places like Sainte Anne des Monts with another cluster of hotels and a few restaurants. Sainte Anne also has a marine discovery centre, with aquariums and boat trips on the Saint Lawrence.