Explore Quebec ►
Essential pages
Places to visit
Attractions
Useful tips for driving in Quebec
For visitors taking to the roads of Quebec, the degree of familiarity with the rules of the road will depend a lot on where the visitor is coming from: for drivers from the USA, things will seem pretty familiar; for drivers from other parts of Canada, they will be even more familiar. But from drivers from Europe there are a lot of points to watch out for – many of them common to much or all of North America.
Drivers licence
Generally speaking, visitors from Europe and the USA, staying less than three months in Canada, do not need an international driver's licence as long as they have a valid licence from their own country.
Quebec rules of the road and driving information
►For everyone.
Language

: road information and road signs are in French, not usually in English. Most road signs use internationally familiar pictograms, so you'll have no difficulty understanding them. A freeway is called an "Autoroute", and freeways are numbered with the letter A, as in France.

Speed camera warning devices

: these are illegal in Quebec.

Seat belts

must be worn by all persons in the car, at all times.

Phoning at the wheel

. It is illegal to use a hand-held cellphone / mobile phone for speaking or texting while driving in Quebec, even if the car is stopped at the traffic lights. Warning : fines from $115 upwards.

Speed limits in Quebec

: 100 km/hr on divided highways, 90 on rural roads, 50 km/h in towns. The limits on divided highways / motorways / autoroutes vary from province to province or state to state in North America. In Quebec, it is on the low side, at 100 km/hr. Take care ! See table below for conversion into mph.

Drinking and driving in Quebec

: the maximum tolerated blood alcohol level is 0.05 grams per liter, the same as in most of Europe, Canada and the USA - but lower than in the UK.

Gas (petrol) prices:

average fuel prices in Quebec in 2017 are about 1.10 CAD (Canadian dollars) per litre. This is about a 30% cheaper than average prices in continental Europe, about 35% cheaper than in the UK, but about 50% more expensive than in the USA.

Motorway tolls:

generally speaking there are no tolls on highways in Quebec. One exception is the A-30 expressway round the south side of Montreal, where there is a fixed toll (2 CAD for a car in 2015).
Specific points for visitors from the USA.
There one extra point to watch out for :
Distances and measures

: firstly, as everywhere in Canada, distances are marked in kilometers, not miles. So too therefore are speed limits. The quick rule to remember is that 8 kilometers = 5 miles, so a speed limit of 100 km/hr (the limit on Quebec's freeways) is a limit of 62.5 mph (see speed limits below) A distance marker indicating "160" means that you are 100 miles from the point indicated.
Gas, as in the rest of Canada, is sold in liters, not gallons. 1 US gallon = 3.79 liters.
Temperature indicators are in Celsius, not Fahrenheit: so 0° is freezing, as is anything below it. +20°C is 68° F.
Specific points for visitors from outside North America.
Several points,
which are generally points to note when driving anywhere in North America:
Traffic density.
Traffic is dense around the cities, notably in and around Montréal; but away from the connurbations and out into rural Quebec, distances are long, and European drivers will probably be surprised how little traffic there is on the roads
Speed limits in Quebec, converted into miles per hour
Maximum speed in

mph

and km/hr
Town / built-up area
Open road
Dual carriageways / divided highways



31mph




(50 km/h)

56 mph

(90 km/h)
or

50 mph

(80 km/h)
or as indicated

62.5 mph

(100 km/h)
or as indicated
Apart from the language, visitors from the USA will feel at home on the roads of Quebec
Accommodation in Quebec
Check out best online rates from Booking.com for hotels, motels and guest-houses :
Includes options with no prepayment and no cancellation fee.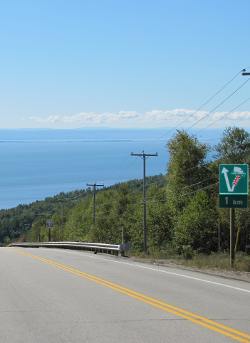 The road to Petite Rivière
Driving in other countries...
Driving in California
- Driving in the sunshine state
Driving in France
- all you need to know about driving in France
Driving in Spain
- A guide to the highways and byways of Spain
Driving in Britain
- A guide for visitors from other countries
Conduire en Angleterre
- Prendre le volant en Angleterre et en Grande Bretagne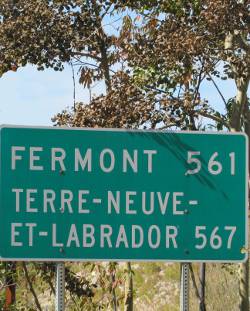 Out in Rural Quebec, distances can be long
About-Quebec.com is an independent user-supported travel information website, partnered with relevant travel service providers. External links are provided for information purposes. About-Quebec.com may receive commission on bookings made through partner sites , but this has no effect on the prices.
Discover other countries...
About France
- the connoisseur's guide to France. Over 200 pages of information for visitors and students.
About Britain
- New; a thematic introduction to Britain
About Spain
- discover the real Spain - an incomplete guide to Spain on and off the beaten track
Angleterre.org.uk
- Le guide de l'Angleterre, en français
Text and photos on this page © About-Quebec.com