Skiing and winter sports in Quebec
They're not quite the Alps, but Quebec's ski resorts have plenty to offer
Key:

Main ski resorts

Nordic skiing and showshoeing

Click markers

for more detail

There's nothing quite like skiing in the Alps : the snow, the ambiance, and the feeling that you really are on holiday a long way from home. And part of the ambiance is the language. While everyone speaks some English, you know you're away from home, because the signs are in French or in German, the shops use a different currency, and the menus are not the same.
But for Americans, skiing in the Alps is a costly business, involving a flight to Europe and then transfer to the ski-slopes. So what if all that were available at less cost, and closer to home?
The great answer to that question is that it is.
Less than two hours' flight from New York city,

Quebec city

airport is under an hour from two of the best ski resorts in eastern Canada, at Mont Saint Anne and Le Massif de Charlevoix a few miles further east.
Even more accessible for American and Canadian skiers, on account of its multiple international air connections,

Montreal

is another city that is under an hour from the slopes: it's just an hour north to the biggest resort in the Laurentians, Mont Tremblant; and less than an hour south, back towards the US border, for a cluster of resorts in the

Cantons de l'Est,

or Eastern Townships area of Quebec, including Bromont.
Finally, in the Gatinais area, just a short distance north of Ottawa, there are a number of small ski resorts offering good downhill skiing, but less scope.
About-Quebec.com brings you a varied choice of the best and most popular ski resorts in Quebec, and also a couple of ideas for those looking for winter sports areas offering a more authentic Quebec experience, smaller more intimate ski areas that cater mostly for people from Quebec with good local knowledge.

Mont Saint Anne resort
Located just 25 miles northeast of

Quebec

City, Mont Saint Anne is a world class ski resort that regularly hosts international skiing events. With a skiing domain of 450 acres, and a drop of over 2000 ft, the Mont Saint Anne ski area has over seventy runs varying from the easy to the very hard, and plenty of lifts and ski-tows; runs on both the north and south side of the mountain allow for different skiing conditions at all times. Floodlit slopes allow skiing well after sunset.


Places to stay :


There are a number of hotels close to the foot of the runs, including the Château Mont Saint Anne or self-catering close by at the Auberge Refuge du Faubourg which also has a restaurant.

Le Massif de Charlevoix
This is a small but impressive ski resort right at the edge of the Saint Lawrence, offering great views over the bay. The resort has about 40 runs as well as a ski school, a long sled run, and opportunities for nordic or cross-country skiing. With a full vertical drop of 2200 ft, Le Massif has the highest vertical drop in eastern Canada.
And one unusual bonus at le Massif is that you can take a scenic train to get there and enjoy a wonderful trip along the shores of the Saint Lawrence from Baie Saint Paul,to the station at Le Massif, at the foot of the slopes.


Places to stay:


The location closest to the ski slopes is Petite Rivière, where the Auberge Four à Pain is fully set up for accommodating skiers, and you can just jump on the train to go to the foot of the slopes; alternatively, choose the Auberge de la Côte d'Or, up on the hill, with its fabulous views. Like other local auberges, they also cater for skiers.


Le Mont Tremblant
Located in the Laurentian mountains, known locally as

les Laurentides

, beside Lake Tremblant, 80 miles north of

Montreal

and 100 miles east of

Ottawa

, Le Mont Tremblant is Quebec's largest and perhaps most European ski resort, with 95 runs and 14 lifts or tows, covering an area of 630 acres, on the north side and the south side of the mountain. It is also a great place for a family holiday, with plenty to do off-piste and in the evenings.
The vertical drop here is over 2000 ft., and the longest ski run is 6 km, or 3.75 miles. This is a popular winter and summer resort, and the village at the foot of the slopes is an attractive pedestrianized area in traditional Quebec style. You could well imagine yourself to be in an Alpine resort in France or Switzerland.
Apart from downhill skiing, the Mont Tremblant ski area has areas for snowboarding and freestyle skiing, as well as miles of marked and graded tracks for cross-country skiing and snow-shoeing : and of course places for hiring all kinds of skiing equipment.



Places to stay :


Chateau Beauvallon - lakeside château hotel with free shuttle bus to the slopes
Le Refuge bed and breakfast : Cosy five room b&b in wooden chalet.
Place Saint Bernard suites and apartments - in the heart of the Mont Tremblant pedestrian village. Public parking.

Photo: general view of Mont Tremblant lake, resort and ski slopes.


Ski Bromont
Thirty miles or so southeast of Montreal, Ski Bromont ski area was in 2010 (and maybe still is) the largest floodlit alpine ski area in North America, so a resort that is ideal for people determined to fit in a few long days' skiing. The ski area covers 450 acres, and is equipped with 113 trails and 42 glades, offering a full range of ski slopes from beginners to extreme level, and a ski school. The vertical drop here is 1300 ft, and the resort has hosted world cup skiing events. There are plenty of opportunities for snow-shoeing and for cross-country Nordic skiing in the vicinity, and there are also three other substantial ski resorts close by.


Other places for winter sports in Quebec
But where else can you go for winter sports in Quebec? To be honest, the simple answer is almost anywhere, if winter sports for you means show-shoeing, cross-country skiing, or snowmobiling, anywhere out in the hills of Quebec will be suitable.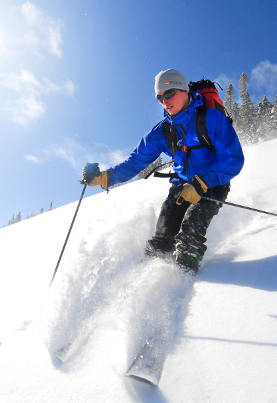 Off piste powder skiing in the Gaspésie national park
Gaspésie

- skiing without the crowds
For anyone really looking for a place to ski that is off the beaten track, and in the depths of historic Quebec province, there is little that can beat skiing in the Gaspé peninsula," la Gaspésie", on the south side of the Saint Lawrence. This south eastern spur of Quebec, with its backbone of mountains sticking out towards the Atlantic, is sparsely populated but has a handful of small resorts, the biggest of them being Pin Rouge, with its 11 km of slopes and a drop of over 1300 ft. Pin Rouge is located near the tip of Gaspésie, in the grandiose setting of the Chic-Choc mountains, near the French and English speaking township of New Richmond.
Also in Gaspésie, the Gaspésie National Park area, south of Saint Anne des Monts, is a paradise for cross-country ski-de-fond or nordic skiing and for snow-shoeing. Nordic ski trails here culminate at an altitude of 1270 metres (4166 ft.) above sea level, and there is great scope for cross-country skiing, hut-to-hut skiing, and just enjoying the solitude of this fabulous mountain area.
For a bit of downhill skiing close by, there is a small ski area at Cap Chat, beside the Saint Lawrence, an area famed for the quantities of snow it receives.



Places to stay:

You'll need to book your own accommodation in Gaspésie. So check out:


Le
Gatinais

Just to the north of Ottawa, there is a cluster of small ski resorts in the Gatinais area of Quebec, while the hills between Montreal and Mont Tremblant offer a dozen or so small ski resorts, less than an hour from the city of Montreal.